Meet Makers and Manufacturers
We'd love to see you at one of our events this next month!
Next Top Makers Queens Pop Up
31-00 47th Ave, #1105, Long Island City, NY
Sep 18, 7-10pm
NYC and former Mayor Bloomberg back Queens as the latest technology and manufacturing hub. Next Thursday, join us over prosecco, local brews and farm-to-table food as we exhibit alongside other makers, manufacturers and meet entrepreneurs, journalists, city leadership and educators for a wonderful evening in the historic Falchi building. Explore our rich maker ecosystem here in New York's most diverse borough!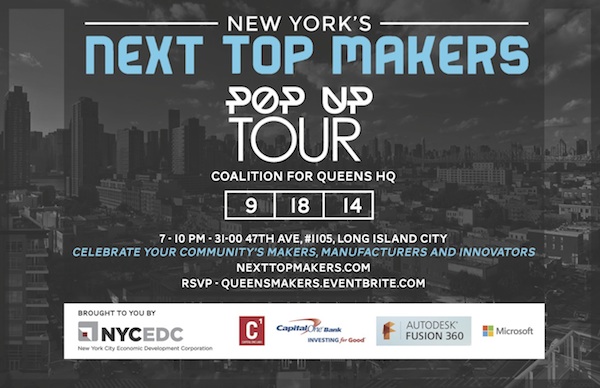 Maker Faire New York
New York Hall of Science
Sep 20-21
A reminder that Maker Faire NY is next weekend! It's an extra special maker faire for us as it was our first Bhold event so it will have been one year since public launch! Come see the latest Bhold designs, check out our latest 3D printers and join in the Bhold Labs fun!

Design For Manufacturing Summit #7
Brooklyn, NY
October 9, 2014
Founder Susan Taing in an invited speaker at the Design For Manufacturing Summit in Brooklyn. DFM is about connecting industrial designers, product developers, makers, engineers and manufacturers to create a leaner manufacturing ecosystem. If you'd like to attend, enter "Bhold" as the promotional code or use this link for a discounted rate of 40% off the normal registration fee.